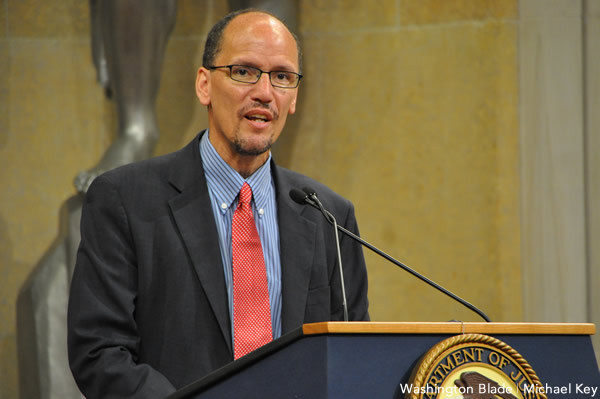 The Labor Department is preparing guidance to inform employers throughout the country that married same-sex couples are now eligible for family and medical leave under the law.
A Labor Department spokesperson affirmed for the Washington Blade the department will issue guidance to inform employers about the change under the Family & Medical Leave Act in the wake of the U.S. Supreme Court decision striking down the Defense of Marriage Act.
"The Wage & Hour Division is working closely with the Department of Justice and looking through all the materials that touch on this issue to determine what public guidance is necessary," the spokesperson added. "We expect to have additional information available in the near future."
The Family & Medical Leave Act entitles eligible employees of covered employers to take unpaid, job-protected leave for specified family and medical reasons. Prior to the ruling against DOMA, the Labor Department didn't require employers to grant married gay couples leave if one spouse in the relationship fell ill and needed care because DOMA prohibited federal recognition of same-sex marriage. But with DOMA out of the picture, the Obama administration is free to enforce FMLA on behalf of married same-sex couples.
Tico Almeida, president of Freedom to Work, praised the Labor Department for moving forward with this guidance and credited it to the leadership of the recently confirmed Labor Secretary Tom Perez.
"Freedom to Work endorsed Tom Perez for Labor Secretary because we know him to be a champion for good jobs for everyone, so we are thrilled that the Wage & Hour Division is moving forward now with public guidance that will let employers know that gay and lesbian married couples must be treated with respect when they seek workplace leave to take care of a same-sex spouse that gets into an accident or is diagnosed with an illness," Almeida said.
In 2010, the Labor Department enacted a change with DOMA in place that enabled a gay employee to take absence under the Family & Medical Leave Act to care for a non-legal, non-biological child of a partner. But that change was obstensibly as far as the Obama administration could go with DOMA in place.
Almeida continued to call for further action in the form of additional guidance saying an existing executive order issued under President Lyndon Johnson prohibiting gender discrimination applies to transgender workers as well. Such guidance would align the Labor Department's enforcement of the directive with the U.S. Equal Employment Opportunity Commission decision last year in Macy v. Holder interpreting Title VII to protect transgender workers.
"We are told by numerous government sources that it was the White House senior staff that decided to disregard American law and ignore Macy vs. Holder for federal contractors," Almeida said. "These sources say that the White House has forbidden the Labor Department from doing what everyone knows is morally right and legally correct. Given the incredible passion and intellect that Secretary Perez brings to these important issues, we remain hopeful that he will persuade the White House staffers to stand on the right side of American history."
Do you like this post?